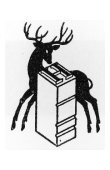 I am not sure about Victors history with Hart Press. I do know that in 1941, he illustrated the Pressmark for Hart Press based upon James Hart's Design. For some more detailed information about this, click here.
A Christmas Day with the Early Californians

I do not know who the publisher is, but this book is based upon an article by Don Arturo Bandini published in the California Magazine, and it was published in 1939. Victor illustrated and composed the book. I have included the foreword page which he wrote, but otherwise just the illustrations.
"Dickens and Christmas"

The following are a series of Christmas books Victor illustrated and sometimes authored for Hart Press.
A Gypsy Barks his Songs

By Zygyne Rebel. A delightful book of poetry, Copyright 1946 by Albert Hamerstrom, published by The Howell-North Press, Berkeley, California. I have included as the last image, the autograph, since I cannot make out the full name of the person who autographed it! Once again, I have only included the illustrated pages, and the poems they relate to.